I had plenty of time to anticipate this day. The Italy trip with my brother Paul and wife Karla included first a few days in Milan, a week in the Lake Como region, and then a few days in Le Cinque Terra.
And then there was the seven-hour drive on October 2, 2018. We followed along the Adriatic coast and then turned inland toward the Molise region. Our destination was the village of
Castelmauro. We began to climb, more than I expected. And the roads in the final 10 kilometers were rough, including a couple of washed out sections. They were barely wide enough for two cars, but it didn't matter as we had them to ourselves.
At 6 p.m. we entered the 2300 ft. high town and immediately were taken with its medieval charm. I still have not found much history of Castelmauro, but I know it dates to the 11th century. As recently as the 1970s, its population was more than 6,000. Today, barely 1,000 people live there. But I wasn't looking for its attractions or its history. I was searching for my own history.
A minute or two into the town, I saw a young woman walking who looked like Federica Mancini, the woman we had hired as our interpreter. "Federica? I asked. She was a bit startled, then said, "No. But I call her. She is my cousin."
I had done as much online homework as I could. I had also sent about 30 letters to various Italians named Petta or Petti in the region, as there was always a mystery as to my grandparents' surnames. They were similar but changed according to the census taker or forms they filed throughout their lives. Petta, Petti, Pitto, Pitti. (My grandparents Anglicized the name to Patti in the 1930s.)
I didn't receive any response to my letters to the six Castelmauro Pettas, so with the help of an Italian speaking wine distributor in St. Pete named Andy Mezzari, I began calling them. At the home of Leonardo Petta, his daughter Rosaria answered. She had read the letter and was pretty sure we weren't related. But she offered to help me find my family. Shortly before our trip, she sent me the birth records from the village archives for my grandparents Pasquale and Maria. They were both named Petta, answering the mystery.  (They were cousins, according to family rumors.) Rosaria also led us to Federica.
That evening we checked into our hotel, the Parc delle Stelle, a modern place a kilometer outside of town on a hill. It seemed out of place in this ancient town, but I learned the owners, with the land already in the family and experience running a trattoria, decided to open the hotel more as a wedding center than a hotel for the few Castelmauro tourists. We were the only guests, and the owner spoke English. I had also sent her an email asking if anyone on her staff might be a Petta. It turned out that, unless there is an event, they are the innkeepers, cooks, maids, etc. But she said I might be related to the Petta who runs the local gas station.
The next morning we met Federica and went to the municipio and met Giuseppi Petroniro (We may be related–my great grandmother was a Petroniro) who the mayor had assigned to help us find our relatives. He showed us not only our grandparents' records, but the birth record for my grandmother's father, Luigi Petta. He also identified another of Pasquale's siblings I did not know about, Vincenzo. That would turn out to be a key piece of information.
Federica was a godsend. Not only was her English good, but she seemed to know everyone in town and had their contact info. on her phone. After a walking tour that included the streets where my grandparents were born, we visited Antonietta Petta who was in her 80s but not related to us. Still, as Federica told her of our quest for our roots, she began to cry. Family is important to her. I wish she were part of mine.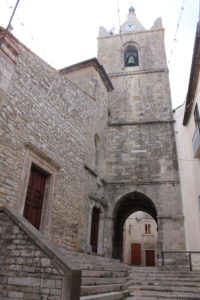 (I learned on this trip that Italian women do not take the name of their husbands, though the children of the marriage, of course, do.)
We then went to the nearby village of Acquaviva Collecroce where my grandmother's mother was born. Both Italian and an old Croat language are spoken there. When the Turks invaded Croatia, many fled across the Adriatic Sea and settled in Acquaviva. My grandmother once told me she spoke a little "Slavic," obviously learning it from her mother, Aurora Mattiaccio. Federica knew someone in the town who had lived as a boy in Australia, a country with its own history of Italian immigrants. Rino spoke all three languages, was a history buff and loved researching families. He took us to the town office where a man working on what seemed to be a computer as old as the town found records for Aurora. Those records provided leads that Rino followed to trace that side of the family back another three generations!
It was now time to visit Maria Felicia at her gas station. We arrived at about 2:00 and still hadn't had lunch. At the station café we had some pizza and beers, over which we explored the connection. She said her grandfather was Vincent, the brother I never knew my grandfather had until that morning. But she wasn't sure we were related because she didn't know any of Vincent's siblings. Her daughter then said, "Let's call Raffaele," Maria Felicia's 89-year old uncle living in Germany.
He said Maria Felicia and I couldn't be related because Vincenzo only had three siblings, none of whom were Pasquale. But I pushed back, confident in the records I found and explained why Raffaele, born in 1929, might not know Pasquale and all eight of his brothers and sisters. The first two girls, born in the 1880s, died as infants, and Antonio and my grandfather left for America long before Raffaele was born. And not only did I find online records for my grandfather's family, Rino pointed me to a website where I could find images of the actual handwritten birth records.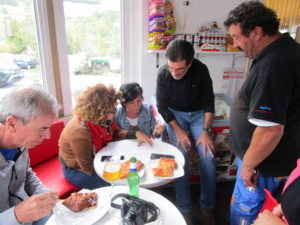 Federica translated the histories we told one another, I with my English and Mary Felicia and her daughters Serena and Monica with their Italian, wonderfully accented with all manner of hand waving. I think if Monica accidentally hit someone while talking, she'd exact serious damage. Serena then left to get Maria, one of Maria Felicia's cousins. She joined the animated conversation and charades. They were still unsure, given Raffaele's recollection, but I would have none it. "We're related," I said. "I want us to be." So did they.
We took pictures and I promised to send more information and pictures of the Pettas in America, though none of my relatives use the name. For some reason, some changed the name to Petti and, as I said, my mother's family became Patti. I'll also send digital images of the records that have been on a shelf for a century and a half just off the town square.
We had a little time left to visit Rosaria and her parents. They graciously offered us food before our drive to Naples, and we told them of what we learned. Again, more pictures. More cheek kisses. More smiles.
But not enough. I'm ready to go home again.