My mother would have turned 96 today, if she were alive. But if she were alive, she would not be happy about it. She was rarely happy about anything.
I am always a little envious when people pay tribute to their mother's on Facebook. The public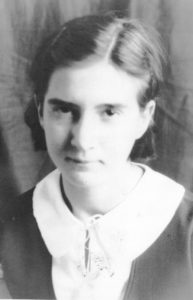 accolades my mother would have loved. Public perception was big with her. She always was bragging on us kids.
I'm envious of my "friends" affection for their moms. Be sure, she was not a bad mom. In fact, in many ways she was the perfect mom of the 50's and 60's. She was always there when we scrapped a knee. Dinner was on the table like clockwork. She saw to it that we went to school and insisted we do well. She provided the basics impeccably.
But that warmth, that kind word or little affection that could make all right with the world was rarely there. I've often wondered why.
Why have I never seen a picture of my mom as a child where she was smiling? Admittedly, the sample size is small. Conversely, friends will see a picture of my mother in her later years and comment on the bright, broad smile. But that smile masked a certain sadness. My image is more of the long face with doleful eyes.
Mom didn't talk about her childhood much. Never did I hear anything that would suggest dark secret of abuse. I knew both of her parents. While my grandfather was a quiet but seemingly gentle man. My grandmother, who lived until I was in my 40's, was not phlegmatic but didn't seem to allow much to bother her and was pleasant to talk to. She certainly did not seem the worrier my mother was.
But worried my mom did. So I come to it honestly.
But people change.
My wife also has few pictures of her as a child sporting a broad smile. As a teenager, she was almost brooding. She admits to being quiet, introspective, introverted and perhaps a little lacking in confidence. Yet, when I met Karla in her late 20's, she was hardly Pollyannish, but certainly seemed to enjoy life. And over time she often displays a playful, silly side and has for many years, to the point where I can't fathom her as brooding—ever. And she is the eternal optimist.
I was never the eternal optimist, and perhaps never will be. But I have changed, due directly to Karla's influence. How can you brood when someone breaks out into a jiggly dance for absolutely no reason at all, if not just to make me smile. And of course, her optimism has been well placed. For all my concern as the kids were growing up, today they seem happy, no more neurotic than me and definitely not in jail.
Meanwhile, we're "living the dream" in St. Pete and can transport it to Colorado when it's too hot to dream in Florida. We ride bikes to very nice restaurants, walk along the water, or picnic by it as we did on Memorial Day without a long drive and a packed station wagon.
I want for nothing and worry for not much more. There's little reason not to smile.
Sometimes it takes a while, but maybe the best lessons you get from parents are those you finally emphatically and willfully unlearn.
So it's your birthday, Mom. Be happy.