As this research attests, bicyclists make better motorists than non-cyclists. That doesn't surprise me. A lack of attention going at 15 mph can result in serious injury or death, so cyclists are at least more observant.
Attention is mandatory in Italy, from which I just returned, and there was a difference between drivers in the north and those in the south.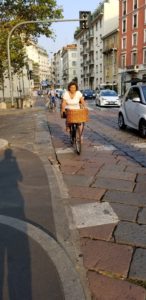 In Milan there seems to be a widely understood pecking order. Pedestrians are at the top. If motorists see you on the curb waiting to cross, they will stop. That differs from American drivers who seem to claim the right of way if you are not in the crosswalk; if they think they have a good chance of beating you to the open space, they will not yield. But what's more astounding is that Italian motorists don't seem upset about it. I saw no road rage in Milan.
Cyclists are next. Again, motorists yield to them patiently, though I could appreciate it if they were perturbed. While only one of all the cyclists I saw on the street ran a stop light, they read their cell phones while riding in the middle of downtown traffic. This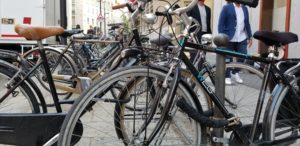 was true of all manner and ages of bike riders. Rather than take the middle of the lane, they tend to ride closer to the curb than I'd feel comfortable doing. But again, motorists seem tolerant and don't pass unless it's safe to do so.
Next in the pecking order are motor scooter drivers. They are insane, weaving in and out of traffic, often commandeering the lane going in the opposite direction. But again, I never saw a motorist get upset.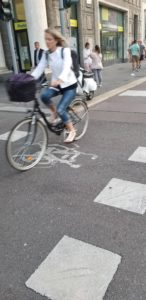 But I learned from a tour guide in Naples that scooter drivers pay dearly for the privilege. Insurance rates are high and about the same as they are for cars, according to the guide. And she confirmed what we witnessed: The rules are different in the southern part of Italy.
In Naples, pedestrians cross a street at their peril. Scooters are even more aggressive than in Milan. But again, motorists seem unfazed by them. I asked a taxi driver about it and he shrugged it off, saying they're crazy but he seemed to carry no ill will.
This is just one guy's reading of the traffic culture there. I couldn't readily find statistics on accidents involving cyclists or pedestrians in those two cities.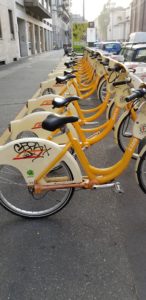 Why are so many American motorists intolerant of cyclists and walkers? I don't know the answer, but I have one theory. Americans take "individual liberty" to mean they are always first in the pecking order. Others be damned. We have lost the idea that we're all in this together. And the idea that we should yield to anyone for any reason has been pretty much tossed in the trash bin.